Foreword
Dear shareholders,
Hamburger Hafen und Logistik AG (HHLA) and its affiliated companies are a major player in the European logistics network. Whether in the ports of Hamburg, Tallinn, Odessa or Trieste, in the hinterland or on the rails, HHLA reliably fulfils its remit as a service provider to companies and consumers across Germany and Europe. In spite of challenging conditions, we continued to excel in this area in the 2022 financial year. Right at the start of the year, we had to close our terminal in the port of Odessa to seaborne handling due to the Russian invasion of Ukraine. However, onshore handling was maintained by a portion of the workforce. With the help of our European network, we established a land bridge to Odessa in order to transport goods in and out of Ukraine by rail.
Stability and safety are key requirements in the reliable provision of logistics services. These two conditions were only present to a limited extent in 2022. The war triggered price spikes in energy prices and drove inflation in Germany to a record high. Furthermore, global value chains continued to experience disruptions: coronavirus infections, port closures in Asia and North America, massive ship delays, disruption in the European hinterland due to storms and construction and wage disputes all affected companies' productivity. As a result of the disruptions to the supply chain, the dwell time for import and export containers was significantly higher in 2022, particularly for our Hamburg terminals. On the one hand, the associated high level of storage capacity utilisation led to a rise in storage fees, which had a positive overall effect on the development of revenue and earnings. On the other hand, the high storage load presented us with major operational challenges and costs, which we successfully overcame: by deploying more personnel and technology and renting additional yard space, we were able to relieve the pressure on the overall system. Given the circumstances, HHLA was able to close the 2022 financial year with a positive result: the Group operating result (EBIT) did not quite match the strong result of the previous year at € 220.4 million but still exceeded our expectations at the start of the year of between € 175 million and € 210 million – an expected range that could not account for the far-reaching consequences of the outbreak of war on the global economy. As a result, HHLA finished the third pandemic year in a row with a profit.
In the challenging 2022 financial year, HHLA proved its efficiency and resilience. Over the years ahead, we will continue to drive ahead with investments in sustainable and innovative logistics.
To ensure HHLA remains competitive and efficient in the future, the Container segment is continuing to work towards the implementation of a comprehensive efficiency programme for the Hamburg terminals. In doing so, we are investing in the future of the Port of Hamburg: at the Container Terminal Burchardkai (CTB), the block storage crane system was expanded as scheduled and additional measures for the automation of handling operations were introduced. With the recently launched organisational realignment, we are setting the course for the future and securing employment in the port for the long term.
In an intensely competitive environment, our cooperation with customers and other partners is key to our business success. We are delighted to have come to a consensus with the German government and agreed to our long-time Chinese partner COSCO SHIPPING Ports Limited (CSPL) acquiring a minority interest in our smallest container terminal, the Container Terminal Tollerort (CTT). This investment will strengthen Hamburg as a maritime location and Germany as an industrial nation while also securing employment for the long term.
Internationally, we are investing in strengthening our European network. In 2022, we expanded our network with new rail connections between the Baltic and the Bosporus. In the port of Muuga, our TK Estonia terminal is now able to handle ships with a cargo volume of 14,000 TEU thanks to the transfer of two container gantry cranes from the CTB. Our terminal in the port of Trieste is also increasing in significance, linking cargo flows from the Eastern Mediterranean, the Adriatic and Central and Eastern Europe.
However, we are not only investing in existing structures. We also see ourselves as facilitators of innovative and sustainable logistics. Established in late 2021, HHLA Next is our very own innovation unit and has already positioned its first products (such as heyport) on the market. HHLA Sky received the German Innovation Award in 2022 for its drone control centre.
We also take our responsibility towards other people and the environment very seriously. Just how sustainable our business activities already are is demonstrated by the high degree of compliance with EU taxonomy requirements, which we are reporting for the first time this year. It exceeds 80 percent for revenue, capital expenditure and operating expenses. This approach is also reflected in our reporting structure: we have decided to transfer sustainability reporting into our Group Management Report. For the first time, it includes in-depth disclosures on environmental, social and governance aspects.
Our long-term aim is to achieve climate-neutral production throughout the HHLA Group by 2040. To this end, we are continuously working to electrify processes and increase the use of renewable energies. At the Hamburg Container Terminal Altenwerder (CTA), which was once again certified as a climate-neutral container handling facility in 2022, we are continuing to convert the AGV fleet and refuelling infrastructure to electric. To date, 85 percent of the fleet has been electrified, with the last vehicles switching over to electric during 2023. In terms of our rail transports, we save more than 65,000 tonnes of CO2 emissions every year by using green electricity. With Clean Port & Logistics, HHLA has created an innovation cluster to test hydrogen-powered equipment in port logistics. Together with partner companies, we develop solutions aimed at bringing hydrogen-powered heavy goods vehicles and terminal equipment to market quickly.
Our commitment to this cause was confirmed in autumn 2022 when we received the Sustainable Impact Award (SIA) in the "Impact on Earth" category. The award will inspire us to greater efforts in the future.
Our responsibility for a sustainable future is not restricted to the development of technological solutions: for us, the focus is human beings. By signing the Diversity Charter in May 2022, the Executive Board strengthened its commitment to diversity and inclusion in HHLA as a workplace. Since the start of the war in Ukraine, one major concern has been the well-being of our employees and their relatives in Odessa. With great solidarity, commitment and efficient organisation, we were quickly able to set up an aid fund and help employees and their families find a temporary home in Germany.
Despite all the challenges we have faced over the past year, our shareholders will be able to benefit from our results in the 2022 financial year. Pending the approval of the Annual General Meeting on 15 June 2023, we will be able to pay out a dividend of € 0.75 per class A share.
Although we continue to face challenges in 2023, working in logistics means being able to deal with volatility. In recent years, we laid the foundations that allowed us to approach this year with confidence and courage. HHLA is already shaping the logistics of the future, and our investments in sustainable, innovative business activities are an essential part of this. We will continue to pursue this course and do all we can to enhance the intrinsic value of HHLA.
Yours,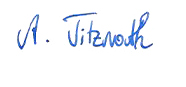 Angela Titzrath
Chief Executive Officer
Automated guided vehicle (AGV)
A fully automatic, driverless transport vehicle which carries containers back and forth between the container gantry cranes on the quayside and the block storage yard at the HHLA Container Terminal Altenwerder.
Block storage
Automated block storage is used at the HHLA Container Terminals Altenwerder and Burchardkai to stack containers in a compact and efficient manner. Containers are stacked in several storage blocks. Rail-mounted gantry cranes are used to transport and stow the boxes.
Container gantry crane
A crane system used to load and discharge container ships. As ships are becoming larger and larger, the latest container gantry cranes have much higher, longer jibs to match.
EBIT
Earnings before interest and taxes.
Hinterland
A port's catchment area.
Investments
Payments for investments in property, plant and equipment, investment property and intangible assets.
Revenue
Revenue from sales or lettings and from services rendered, less sales deductions and VAT.
TEU (twenty-foot equivalent unit)
A TEU is a 20-foot standard container, used as a unit for measuring container volumes. A 20-foot standard container is 6.06 metres long, 2.44 metres wide and 2.59 metres high.
Terminal
In maritime logistics, a terminal is a facility where freight transported by various modes of transport is handled.