Major achievements
Successful start: Strong rise in revenue and operating result

Subdued environment: Despite lowered growth expectations, economists continue to forecast growth

Driving digitalisation: Successful rollout of N4 terminal software at first terminal in Hamburg paving the way for further process improvement

Ecological responsibility: CTA first zero-emission terminal in Europe

Guidance confirmed: For 2019 HHLA expects a stable business development with a significant increase in operating result*
* mainly due to changes in lease accounting policy (IFRS 16)
Letter to the Shareholders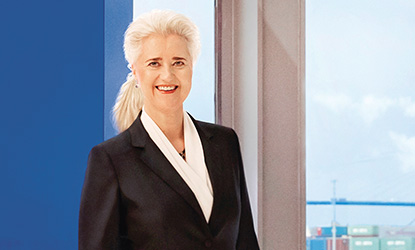 We are well aware of the fact that we are measured by our ability to live up to our performance promise. As a result, we constantly strive to achieve further improvements in our productivity, quality and reliability.

Angela Titzrath

Chairwoman of the Executive Board
Key Figures
Group
Revenue in € million
3M 2019

347.6

3M 2018

315.2
Profit after tax and minority interests in € million
3M 2019

29.4

3M 2018

23.7
EBIT in € million
3M 2019

59.7

3M 2018

47.9
Operating cash flow in € million
3M 2019

94.4

3M 2018

54.6
Port Logistics
Revenue in € million
3M 2019

339.8

3M 2018

307.3
Earnings per share in €
3M 2019

0.39

3M 2018

0.31
EBIT in € million
3M 2019

55.7

3M 2018

44.2
Operating cash flow in € million
3M 2019

89.6

3M 2018

50.3
Real Estate
Earnings per share in €
3M 2019

0.83

3M 2018

0.79
HHLA Segments
Container
HHLA's container terminals link ships, rail freight and trucks to create an efficient transport chain. The terminals in Hamburg form the most important European hub between Asia and Central/Eastern Europe. HHLA also operates a container terminal in the Ukrainian city of Odessa and Tallinn in Estonia.
Container throughput
in TEU thousand
3M 2019

1,865

3M 2018

1,824
Revenue
in € million
3M 2019

200.9

3M 2018

191.7
Intermodal
HHLA's rail companies operate a comprehensive transport and terminal network for container transportation and connect ports on the North and Baltic seas, as well as the Northern Adriatic, with their hinterland. Transshipments by truck within the Port of Hamburg round off the service portfolio.
Container transport
in TEU thousand
Revenue
in € million
3M 2019

123.9

3M 2018

101.6
Logistics
In this segment, HHLA pools a wide range of port-related services such as dry bulk, vehicle and fruit logistics. The range of services includes both individual partially airborne logistics services as well as complete process chains. Additionally, HHLA markets its expertise in infrastructure and project development internationally.
Revenue in € million
3M 2019

14.3

3M 2018

12.2
Real Estate
Following the sustainable renovation of Hamburg's landmarked Speicherstadt historical warehouse district to create an exemplary redeveloped quarter, HHLA is committed to intelligent site development and preserving the city's fishing tradition with the Hamburg-Altona fish market.