2021 at a glance
Major achievements

Efficiency programme: automation of block storage at CTB continued
CSPL receives minority stake of 35 % in Container Terminal Tollerort (subject to approval of the relevant federal authorities)
Multi-function terminal in Trieste went into operation
Expansion of Intermodal network by further Hub terminal in Hungary

Market environment

Persisting disruptions in worldwide trade flows due to a lack of empty containers and shipping space as a result of catch-up effects, accident in Suez Canal and shut downs at key export ports in China due to corona outbreaks
Ongoing delays in sailing schedules led to high pressure on terminals and hinterland transport systems

Results

Container throughput increased by 2.5 %; container transport grew by 10.0 %
EBIT benefited from strong transport volumes as well as temporary increase in storage fees
Group ROCE of 10.6 % exceeds medium- and long-term target of 8.5 %
Dividend proposal of € 0.75 per class A share
Letter to the Shareholders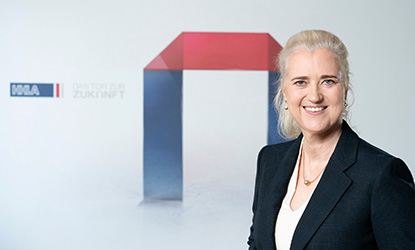 Stable customer relationships are more important than ever. More than at any time in the past, the expectations of customers must be met with excellent service quality, a high level of reliability and top-calibre, sustainable products.

Angela Titzrath

Chairwoman of the Executive Board
Key Figures 2021
Group
Revenue in € million
2021

1,465.4

2020

1,299.8
Profit after tax and minority interests in € million
Operating cash flow in € million
Port Logistics
Revenue in € million
2021

1,435.8

2020

1,269.3
Operating cash flow in € million
Real Estate
HHLA Segments
Container
HHLA's container terminals link ships, rail networks and trucks to create an efficient transport chain. The terminals in Hamburg form the most important European hub between Asia and Central/Eastern Europe. HHLA also operates a container terminal in Odessa in Ukraine, Tallinn in Estonia and Trieste in Italy.
Container throughput
in TEU thousand
Intermodal
HHLA's rail companies operate a comprehensive transport and terminal network for container transportation and connect ports on the North and Baltic seas, as well as the Northern Adriatic, with their hinterland. Transhipments by truck within the Port of Hamburg round off the service portfolio.
Container transport
in TEU thousand
Logistics
In this segment, HHLA pools a wide range of port-related services such as dry bulk, vehicle and fruit logistics. Business activities in process automation, additive manufacturing or air-based logistics services complement the range of services. HHLA also markets its expertise in infrastructure and project development internationally.
Real Estate
With the long-term development of the landmarked Speicherstadt historical warehouse district as well as the Hamburg Fish Market on the banks of the River Elbe in Altona, HHLA is committed to a site development that is in line with the market and geared towards sustainability.
Chronicle 2021
07.01.2021

HHLA multi-function terminal PLT Italy in the Italian seaport of Trieste starting on schedule

21.01.2021

HHLA acquired majority share of automation specialist iSAM AG

19.02.2021

Rail subsidiary Metrans to expand network through investment in Hungary

August 2021

HHLA receives important funding for hydrogen project TransHyDE and becomes part of H2Global Foundation

21.09.2021

Container Terminal Tollerort in Hamburg to become preferred hub for COSCO services

13.10.2021

HHLA successfully completed joint project for automated container transport with MAN "Hamburg TruckPilot"
Sustainability
Ecology
Climate protection and the careful stewardship of natural resources are of particular importance for HHLA since terminals near cities need to be planned and operated with the environment especially in mind. HHLA wants to have cut its total CO2 emissions at least in half by 2030, and be climate-neutral by 2040.
By 27.0 %
absolute CO2 emissions have decreased since 2018 (base year)
By 2040
HHLA intends to operate climate-neutral
Society
Highly competent and hard-working employees form the foundation of our success. As HHLA's aims to provide its services predominantly with its own personnel, the long-term positive development of the company results in additional jobs, currently mainly in the Intermodal segment. Additionally, HHLA supports a large number of educational projects, especially for school children, and contributes to social responsibility through an active dialogue on topics relating to the port industry.
16.6 %
more employees since 2016
€ 5.0 million
invested in educating and training in 2021
Economy
Net value added serves as an indicator for the economic added value generated by HHLA. Added value is shared between employees, shareholders, the state (taxes) and lenders. The largest proportion of 73.8 % went to employees.
€ 4.0 billion
value added since 2016