Hamburger Hafen und Logistik AG (HHLA) is committed to fostering a work environment that promotes diversity and unbiased, respectful interaction – regardless of gender, nationality, ethnic or social background, religion or worldview, physical or mental ability, age or sexual orientation.
Putting diversity into practice is the key to corporate success
As an international logistics company with roots in Hamburg, HHLA stands for cultural openness and tolerance. By signing its Policy Statement on Diversity and Against Racism in June 2020 and the German Diversity Charter in May 2022, the HHLA Executive Board underlined its stance on diversity and an unbiased work environment.

Diversity is anchored in the corporate values of HHLA. To be able to take it into consideration in all its facets and also use it as an important resource for corporate success, HHLA has created its own Diversity & Inclusion team which reports directly to the Chief Human Resources Officer). The aim is to strengthen a working environment that promotes diversity and bias-free, respectful cooperation – regardless of gender, nationality, ethnic or social origin, religion or worldview, physical and mental abilities, age or sexual orientation.

As head of the Diversity & Inclusion team, Nicole Knaack has been working for HHLA since January 2023. In this interview she explains why diversity in the workplace is much more of an asset than a burden – and how diversity can be strategically promoted throughout the company.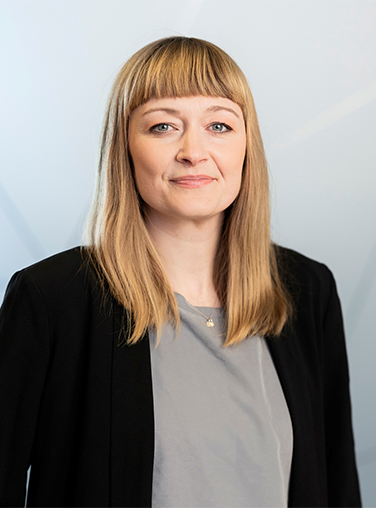 "People who don't need to leave their identity at the factory gate or office door do a better job."
Nicole Knaack
Head of the Diversity & Inclusion team
Learn more about the dimensions of diversity in the interview with Nicole Knaack, Head of Diversity and Inclusion
Ms Knaack, diversity has become a genuine economic factor and stakeholders are calling for companies to take a more diverse approach. What do you think is behind this?
Nicole Knaack: The first diversity management approaches have been around since the 1970s and come from the USA. These were a result of the US civil rights movement that began in the 1950s. The topic itself has been gaining traction in Germany since the 1990s. Companies have realised that greater equality is not only ethically right, but also makes good business sense. However, the road to true inclusion is long and involves breaking up old structures – and that takes time as they evolved over many years. It's actually no surprise that the topic is becoming more and more popular: in times of change, growing uncertainty and increasing complexity, we need equally complex approaches. And this is precisely where diversity can be helpful if it is recognised and used accordingly.
Integrating diversity into the workplace is something that affects all employees on a daily basis. What are the first important steps to getting everyone on board and raising awareness for more openness and tolerance?
Nicole Knaack: In many cases, diversity is already a reality. Essentially, it's about creating fair conditions for all. Because – to put it simply – if you don't need to hand in your identity at the factory gate or office door, you'll do a better job. That should be the basic premise. And to achieve this, you first need to provide plenty of information and education. After all, not everyone knows that we unconsciously deny people opportunities and that these exclusion mechanisms permeate all structures. So step one has to be: raise awareness. Step two is to impart knowledge. Then the third step is implementation. Sometimes we have to do all three steps at the same time to get things moving.
What challenges do you see on the path to successful diversity management?
Nicole Knaack: In my experience, the biggest hurdle is getting people to be open to the topic. Many people think it's going to be extra work on top of their already packed schedule. That can be off-putting and mean that people are initially reluctant to engage. And that's totally fine. Our task will be to show what we can all gain at HHLA by having a better understanding of diversity issues. Because in the end, more equal opportunities, an unbiased work environment and more openness all lead to a healthy corporate culture. And that automatically leads to more success – at HHLA too.
Dimensions of diversity and inclusion at HHLA
ETHNICITY and nationality
Age
GENDER AND GENDER IDENTITY
PHYSICAL AND MENTAL ABILITY
RELIGION AND WORLDVIEW
SEXUAL ORIENTATION
employees in 11 European countries and with 44 nationalities at HHLA in Germany
In terms of ethnicity, HHLA's workforce is becoming increasingly diverse and international: the company employs people from around 40 nations. HHLA believes that this breadth of linguistic and cultural knowledge enriches the company and therefore promotes diversity and fosters a spirit of togetherness.
As a result of demographic change, the average age of our employees will probably continue to rise. HHLA therefore ensures that its employees remain physically, mentally and professionally fit throughout their working lives.
More than half of all employees were between 30 and 50 years old in 2022.
years in Germany
years at the international sites
Gender identities can vary immensely with male, female, trans* and inter* people. HHLA is committed to equality for all genders and the dismantling of stereotypes, for example through equal pay for equivalent positions, part-time work opportunities and an increase in the proportion of women in management roles as well as in the workforce on the whole.
In order to be able to integrate employees with physical or mental disabilities into work processes, HHLA offers a range of training opportunities, continues to improve accessibility and supports initiatives to increase the acceptance of inclusion measures.
employees with a severe disability (including persons of an equivalent status) in Germany
There are many people with different religions and beliefs working at HHLA. The company respects all faiths and every worldview. This is also enshrined in HHLA's Code of Conduct and reinforced by a programme of training courses.
Sexual orientation and identity are exclusively a private matter for each employee. Nevertheless, HHLA is aware of its responsibility to offer a work environment in which everyone feel welcome. To this end, the company supports all employees who wish to set up worker representation bodies and offers training to raise awareness of how staff should treat colleagues with different sexual orientation.
A person's social background still shapes their educational and labour market opportunities in Germany. HHLA is committed to being an equal opportunities employer. The company ensures this with a structured selection procedure when filling vacancies. Moreover, extensive continuing education opportunities are available to all employees.
training events lasting one or more days incl. 550 qualifications as internal vocational courses with 3,238 training days vocational courses conducted by HHLA's own trainers.
events lasting one or more days as part of the company's cross-segment seminar programme. With over 1,600 participant days