Expanding the Integrated Service Portfolio
HHLA plans to continuously improve the services it provides by expanding intermodal transport between the international port and the hinterland. Besides increasing the scope and range of its services, HHLA also focuses on increasing its value added. This approach is geared towards making effective use of the Port of Hamburg's advantageous geographical position in terms of transport links by utilising synergies between handling and transport services and by adding complementary services (container repairs, empty container storage facilities, etc.). HHLA's activities are therefore mutually beneficial: greater handling volumes in the Port of Hamburg result in more traffic for hinterland transport and increased demand for logistics services. At the same time, the provision of efficient transport systems and high-quality logistics services generates additional handling volumes for the HHLA container terminals.
For this reason, HHLA will continue to expand the market position of its Intermodal subsidiaries with the main geographical focus on the growth markets of Central and Eastern Europe as well as Germany, Austria, Switzerland (DACH region). Investments here will concentrate on inland terminals and connecting them to international ports via direct links. By gradually increasing vertical integration by acquiring its own rolling stock (container wagons) and building up its own traction (locomotives), the company will be able to operate largely independently on the market. HHLA is accompanying these measures by expanding its trucking services, which offer a comprehensive network for delivering and collecting sea containers over the "last mile" inland.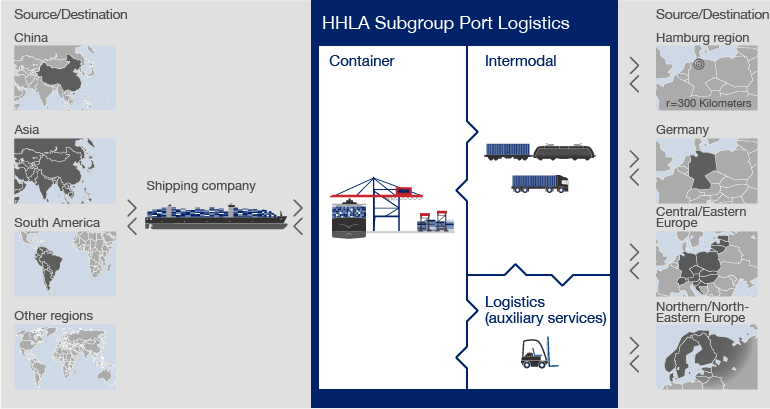 Hinterland
Describes a port's catchment area.
Traction
The action of a locomotive pulling a train.