Customer Structure and Sales
The customer base in the Container and Intermodal segments consists mainly of shipping companies and freight forwarders. The services provided in the Logistics segment are aimed at various customer groups, ranging from steel companies and power stations (in the field of bulk cargo handling) to international operators of ports and other logistics centres (in the field of port consulting). The Real Estate segment lets its office space and commercial premises to German and international customers from a variety of sectors, ranging from logistics and trading companies to media, consulting and advertising agencies, fashion labels, hotel and restaurants, and the creative industries.
Globally operating container shipping companies are the customers which account for the largest share of HHLA's revenue. In ship handling, HHLA's container terminals work with shipping companies on a neutral basis (multi-user principle) and offer a wide range of high-quality services. In the 2015 financial year, HHLA's customer base included all of the top 20 container shipping companies. HHLA therefore believes that it is able to respond flexibly to changes in the consortia and alliances formed by its clients in the shipping sector.
Top 20 Shipping Companies

by transportation capacity as of 31 December 2015

Shipping company

Alliance

in thousand TEU

1.

APM-Mærsk Line

2M

2,996

2.

MSC

2M

2,679

3.

CMA CGM

OCEAN THREE

1,821

4.

Evergreen

CKYHE

932

5.

Hapag-Lloyd

G6

930

6.

COSCO

CKYHE

862

7.

CSCL

OCEAN THREE

694

8.

Hamburg Süd

–

646

9.

Hanjin

CKYHE

626

10.

OOCL

G6

562

11.

MOL

G6

554

12.

APL

G6

535

13.

Yang Ming Line

CKYHE

531

14.

UASC

OCEAN THREE

513

15.

NYK

G6

496

16.

K Line

CKYHE

380

17.

Hyundai M.M.

G6

379

18.

PIL (Pacific Intl. Line)

–

360

19.

Zim

–

358

20.

Wan Hai Lines

–

213
Sales activities in the Container segment are organised by means of key account management. In the Intermodal and Logistics segments, sales are generally managed locally by the individual companies. As far as possible, all activities follow the strategic approach of vertical integration, i.e. offering comprehensive transport and logistics services from a single source. The Real Estate segment's sales team offers potential clients and tenants a wide range of services for properties in its two main districts – Hamburg's Speicherstadt historical warehouse district and the northern banks of the river Elbe – as well as for logistics properties in and around the port.
The share of revenue attributable to HHLA's five most important customers rose slightly to 55 % in the 2015 financial year (previous year: 52 %). The ten most important customers accounted for 80 % (previous year: 80 %) and the 15 most important customers for 94 % (previous year: 95 %) of revenue generated by the HHLA container terminals in Hamburg – nearly unchanged from the previous year. HHLA has maintained commercial relationships with the majority of its most important customers for well over two decades.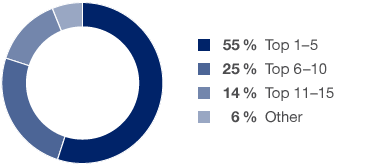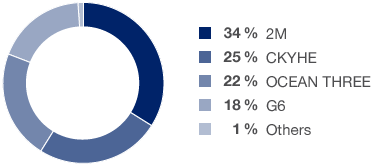 HHLA generally concludes framework contracts with its shipping customers. These contracts contain comprehensive descriptions of the services to be rendered and of the remuneration arrangements. As the usage volume for these services is not fixed, there is no order backlog in the traditional sense for HHLA's logistics services.