HHLA's strategy is aimed at assuming a leading position as a port logistics provider and thus achieving sustainable growth in its enterprise value. With its business model of vertical integration along the transport chain between the international seaport and its European hinterland, HHLA believes it is favourably positioned to benefit from the expected growth in trade. This is also based on Hamburg's role as a logistics hub linking the Far East, especially China and India, with the economies of Central and Eastern Europe. Sustainable business practices form an integral part of the corporate strategy. The focus here is on organising ecologically sound transport chains – especially by linking ships and rail logistics – and operating terminals in an environmentally friendly manner that uses land efficiently, as well as conserving resources.
In its non-listed Real Estate subgroup, HHLA pursues a long-term and demand-oriented approach to developing districts and properties. The main focus is on developing existing properties, many of which are designated as historical landmarks.

In order to consolidate and further expand the Group's market position, HHLA pursues the following strategic guidelines for the listed Port Logistics subgroup:
Establishing and Enhancing Quality and Efficiency Leadership
HHLA strives to constantly improve its competitiveness by further enhancing its service quality and technological capabilities. It concentrates both on retaining its broad customer base and attracting new clients.
In the Container segment, HHLA will continue to pursue its strategy of providing a neutral service to as many shipping companies as possible in the handling of ships and the coordination of berths, thus ensuring a high quality of service for all customers. For HHLA, this concept will secure the long-term existence of a balanced customer portfolio, the best possible capacity utilisation, and the profitability of its services. Ship handling activities focus primarily on improving the efficiency of handling services and responding to the requirements of container mega-ships that are increasingly prompting peak load conditions. This involves systematically gearing the design and operation of facilities towards maximising the productivity of land usage, manpower and capital. HHLA also aims to become a quality and efficiency leader in the activities of its Intermodal segment by continuing to invest in its own facilities and equipment, such as inland terminals, container-carrying rail wagons and locomotives. Due to its consistent establishment and expansion of pre- and onward-carriage rail systems and their integration into maritime transport chains, HHLA is able to offer its customers a perfectly coordinated range of services.
Expanding the Integrated Service Portfolio
HHLA plans to continuously improve the services it provides by expanding intermodal transport between the international port and the hinterland. Besides increasing the scope and range of its services, HHLA also focuses on increasing its value added. This approach is geared towards making effective use of the Port of Hamburg's advantageous geographical position in terms of transport links by utilising synergies between handling and transport services and by adding complementary services (container repairs, empty container storage facilities etc.). HHLA's activities are therefore mutually beneficial: greater handling volumes in the Port of Hamburg result in more traffic for hinterland transport and increased demand for logistics services. Conversely, the provision of efficient transport systems and high-quality logistics services generates additional handling volumes for the HHLA container terminals.
For this reason, HHLA will continue to expand the market position of its Intermodal subsidiaries with the main geographical focus on the growth markets of Central, Eastern and South-Eastern Europe, as well as Germany and Austria. Investments here will concentrate on inland terminals and connecting them to international ports via direct links. By gradually increasing vertical integration by acquiring its own rolling stock (container wagons) and expanding its own traction fleet (locomotives), the company will be able to operate largely independently on the market. HHLA is accompanying these measures by expanding its trucking services, which offer a comprehensive network for delivering and collecting sea containers over the "last mile" inland.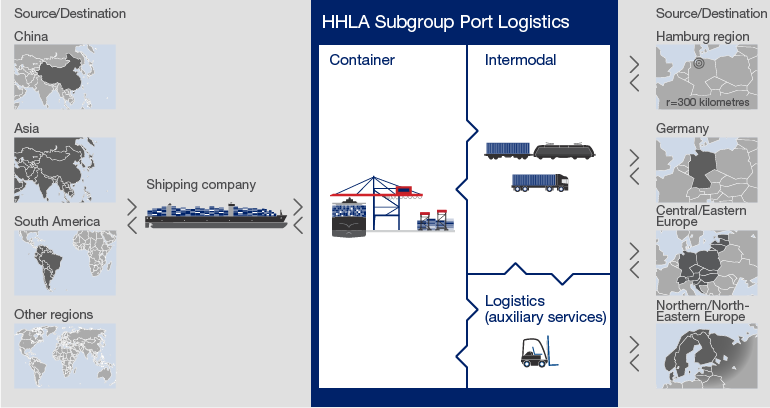 Strengthening the Regional Port Presence
In addition to purely organic growth, HHLA examines opportunities for acquisitions. Potential acquisitions and equity investments focus on port projects and shareholdings in attractive growth markets. Based on the economies of scope offered by the existing network and the opportunities it presents to tap additional potential, HHLA's primary interest is in the catchment area between the Baltic region, the Northern Adriatic and the Black Sea. However, projects and shareholdings in other high-growth regions are also being examined. Both the Group's international consultancy activities and its ongoing corporate development work can provide starting points for this approach. In addition to strategic compatibility, key decision-making criteria include growth prospects, the anticipated return on capital employed in the medium and long term, and the commercial opportunities and risks.
Hinterland
A port's catchment area.
Terminal
In maritime logistics, a terminal is a facility where freight transported by various modes of transport is handled.
Intermodal/Intermodal Systems
Transportation via several modes of transport (water, rail, road) combining the specific advantages of the respective carriers.
Value Added
Production value – intermediate inputs (cost of materials, depreciation and amortisation, and other operating expenses); the value added generated is shared between the HHLA Group's stakeholders, such as employees, shareholders, lenders and the local community.
Investments
Payments for investments in property, plant and equipment, investment property and intangible assets.
Terminal
In maritime logistics, a terminal is a facility where freight transported by various modes of transport is handled.
Traction
The action of a locomotive pulling a train.