50 Years of Containers at the Port of Hamburg
Containers have revolutionised transport logistics the world over. For 50 years, the steel boxes have been dominating handling at the Port of Hamburg as well. From here, they continue on their journey deep into the Eastern Europe hinterland.
Early Days of the Container
The first containers arrived at the Port of Hamburg in the 1960s as additional deck cargo. They were hoisted off general cargo or RoRo ships using conventional heavy lift cranes. Helmuth Kern, then Hamburg's Senator for Economic Affairs and Chairman of the HHLA Supervisory Board, recognised the potential of the new handling technology early on. At his instigation, the first special container handling facility was built at Burchardkai in November 1965. Originally a car loading facility, this became the nucleus of container handling at the Port of Hamburg, quickly developing into the city's largest handling site.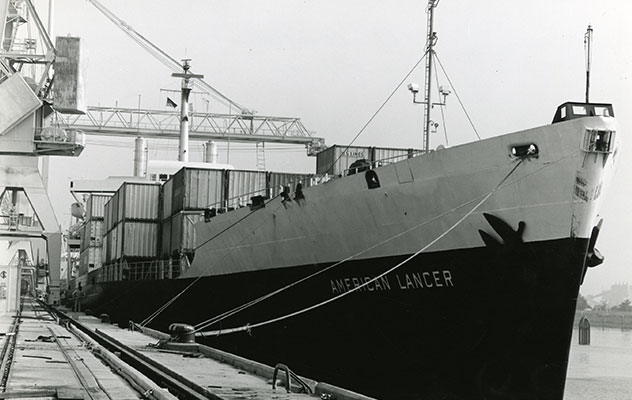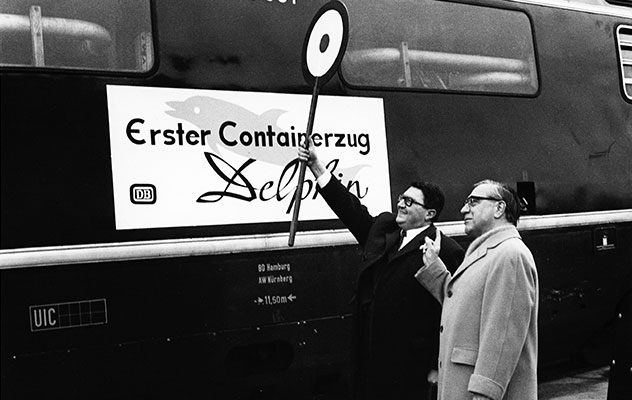 Until the mid-1960s, the multi-purpose terminal at Burchardkai was primarily used to load VW Beetles for export to the USA. From 1966 onwards, however, it also handled combined container/general cargo services bound for the East Coast of the USA. Hamburg's first container gantry cranes were constructed at berth 3 in Burchardkai as early as 1967. Even then, they were capable of handling 12 to 18 containers an hour. The "real" container era began at the Port of Hamburg on 31 May 1968 with the arrival of the American Lancer. This 213-metre-long United States Lines vessel was the first fully containerised ship on the river Elbe. Despite the new technology, a great deal of manual labour was still needed to discharge a couple of dozen containers. By autumn 1968, four to five fully containerised ships were already calling at Burchardkai each week. The Delphin container train also became the first direct train to arrive at the container terminal.
How much fits in a Container?
Age of Automation
With the advent of containers, the underlying logistical requirements changed. The port needed a large number of bigger, more accessible storage and stacking slots along with manoeuvrable ground-handling vehicles to move the containers between the quayside, the temporary storage facility and the heavy goods vehicles. The terminal at Burchardkai was constantly extended and expanded to keep pace with the exponential increase in throughput. In 1970, new port order regulations relieved HHLA of all sovereign functions. This meant that HHLA was no longer responsible for building and maintaining quay walls and docks, which instead became part of the city's remit. HHLA was able to concentrate on building up the suprastructure – buildings, cranes and container gantry cranes – in free competition with other companies in the port industry.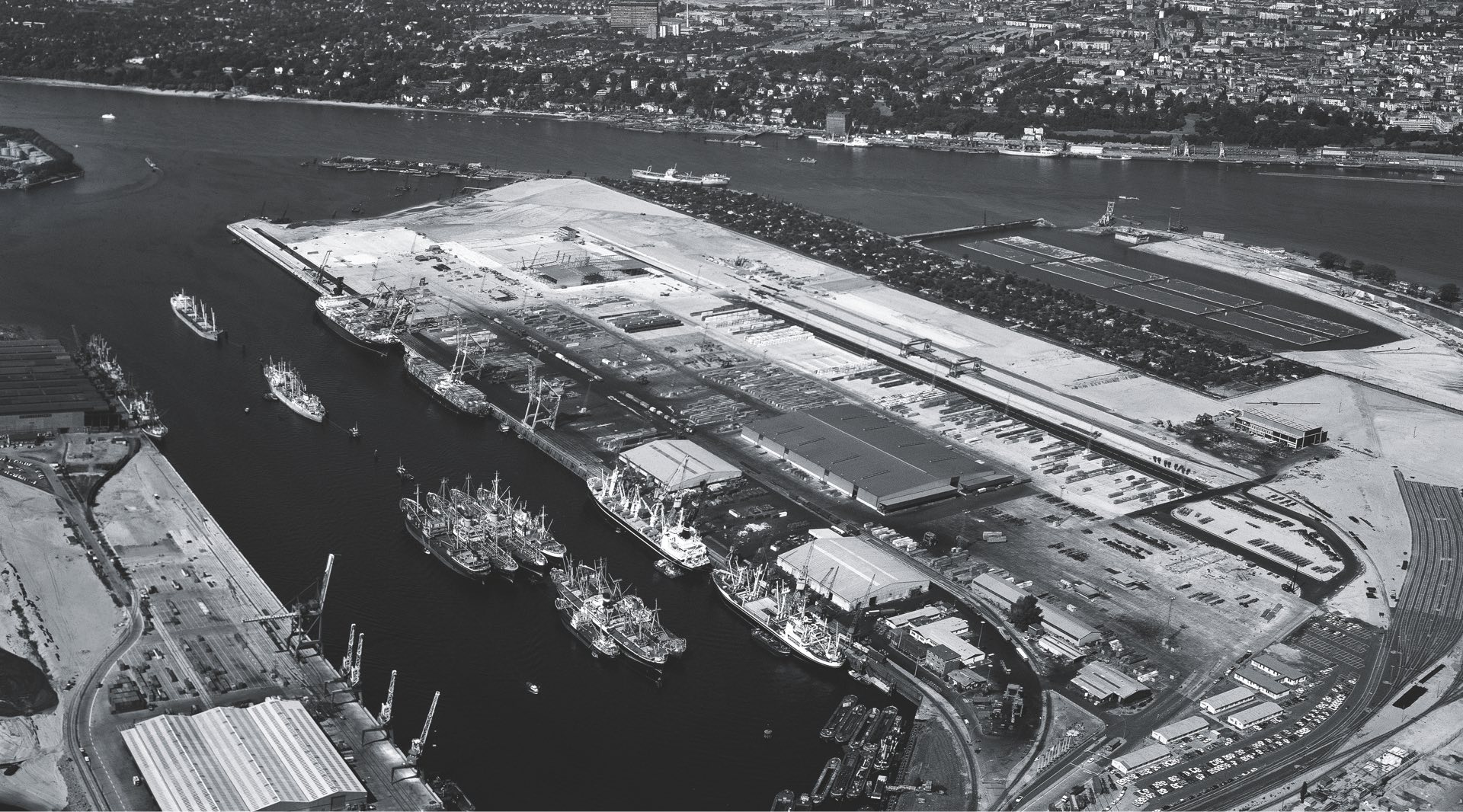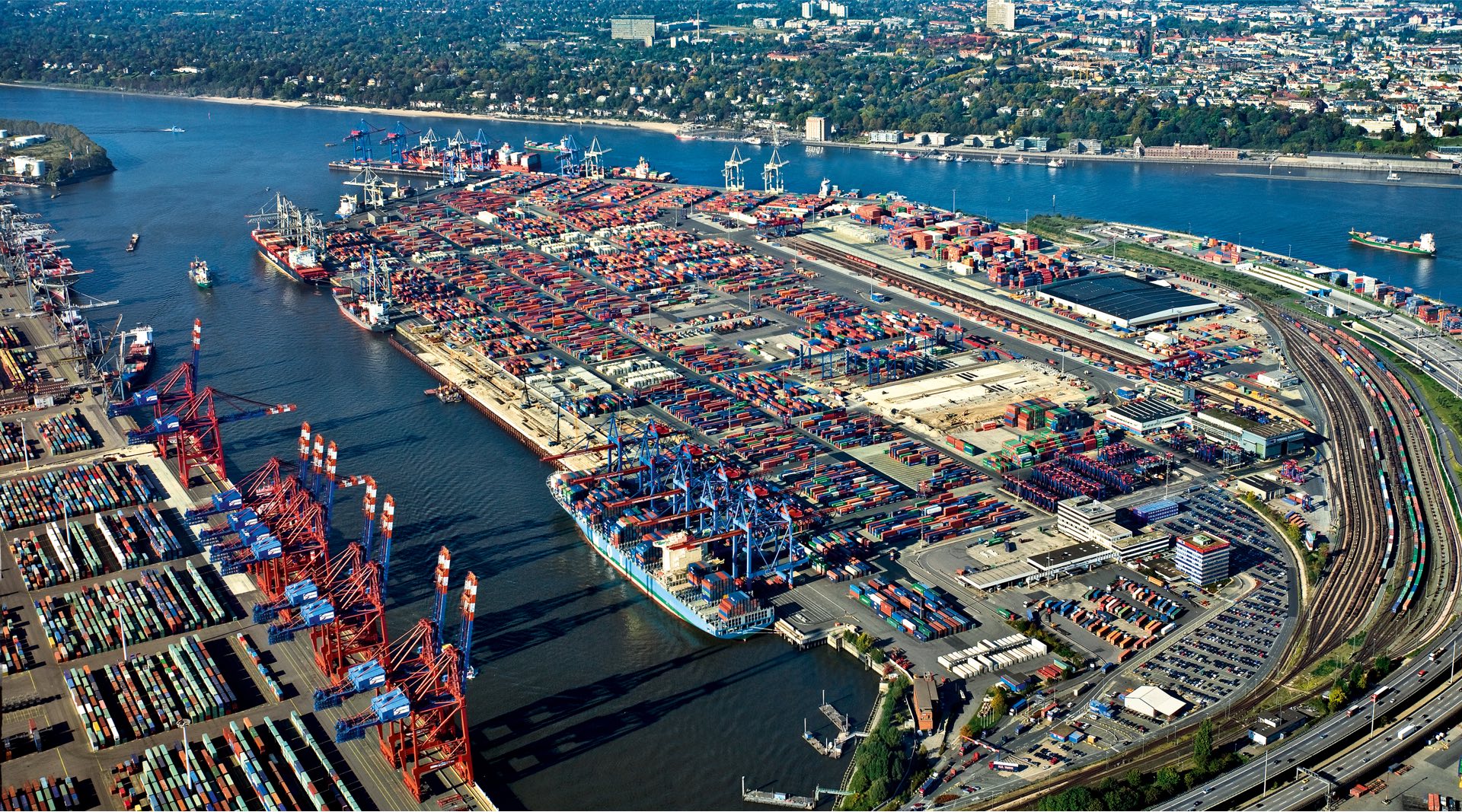 By 1972, Burchardkai had six container gantry cranes at six berths. A modern container rail terminal was also built there. HHLA incorporated forward-looking technology into the expansion work at Burchardkai: as early as 1975, HHLA rolled out an interactive dialogue system to manage containers at the yards. Data was processed electronically at CTB while other terminals still used paper and rubber stamps. In the mid-1980s, mobile data communication was established between straddle carriers and the container's location – another world first. From the mid-1990s onwards, satellite data was used to pinpoint containers' precise location in the yard.
Following its purchase of the Container Terminal Tollerort in 1996, HHLA continued to grow. Plans were drawn up for the Container Terminal Altenwerder. As demand continued to rise, conventional terminal operations were increasingly reaching full capacity. Automation proved the key to achieving success. The company decided to combine three innovative terminal technologies: container gantry cranes with a dual-trolley system, automated guided vehicles (AGVs) and a block storage system with rail-mounted gantry cranes (RMGs). Each of these technologies had been used successfully in isolation, but they had never been combined in this way. The same was true of the terminal software. Although it was possible to draw on individual modules, its heart – the control system for overall operations – had to be developed from scratch. All of the technical options for the project were explored and all of the processes were tested by means of computer simulations.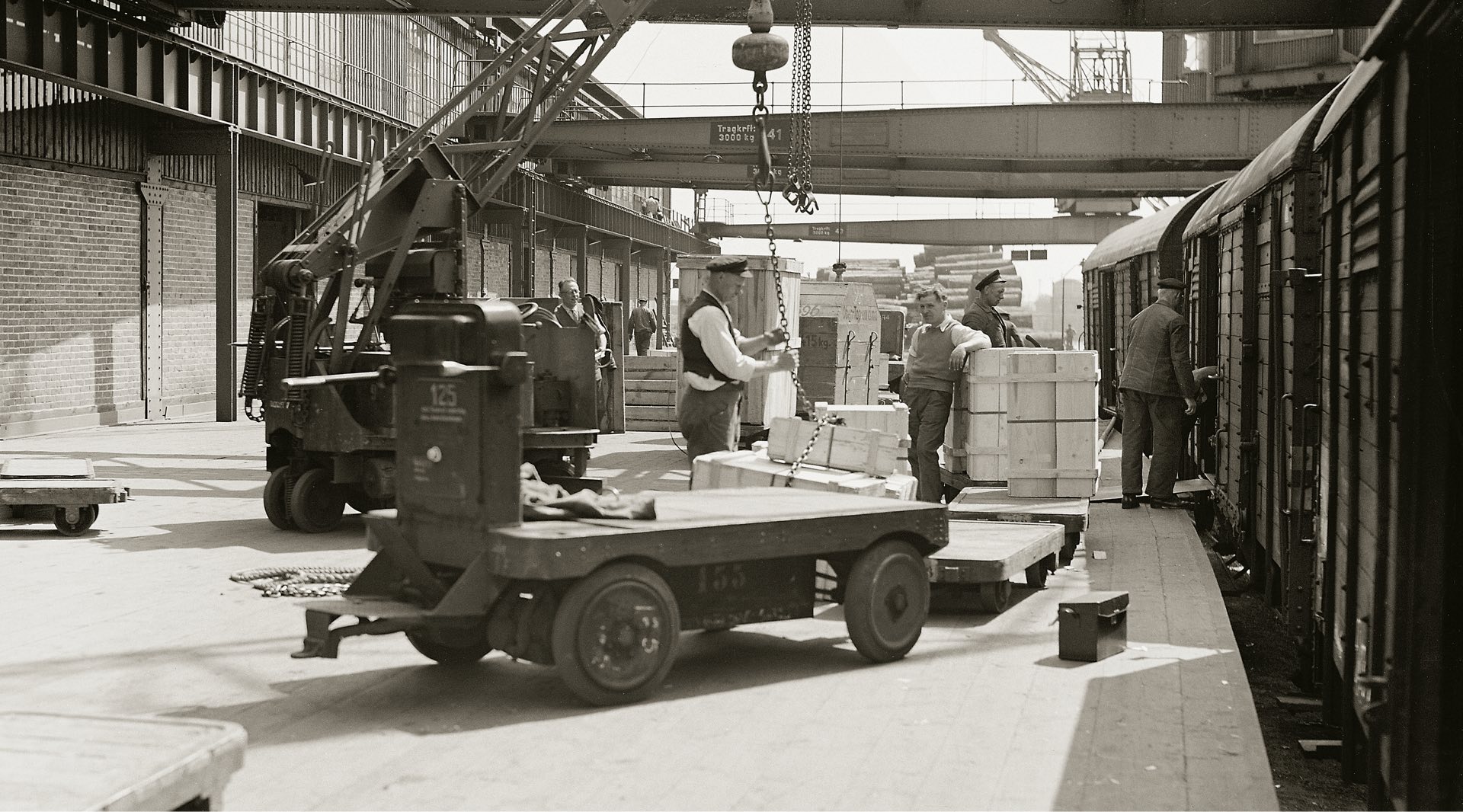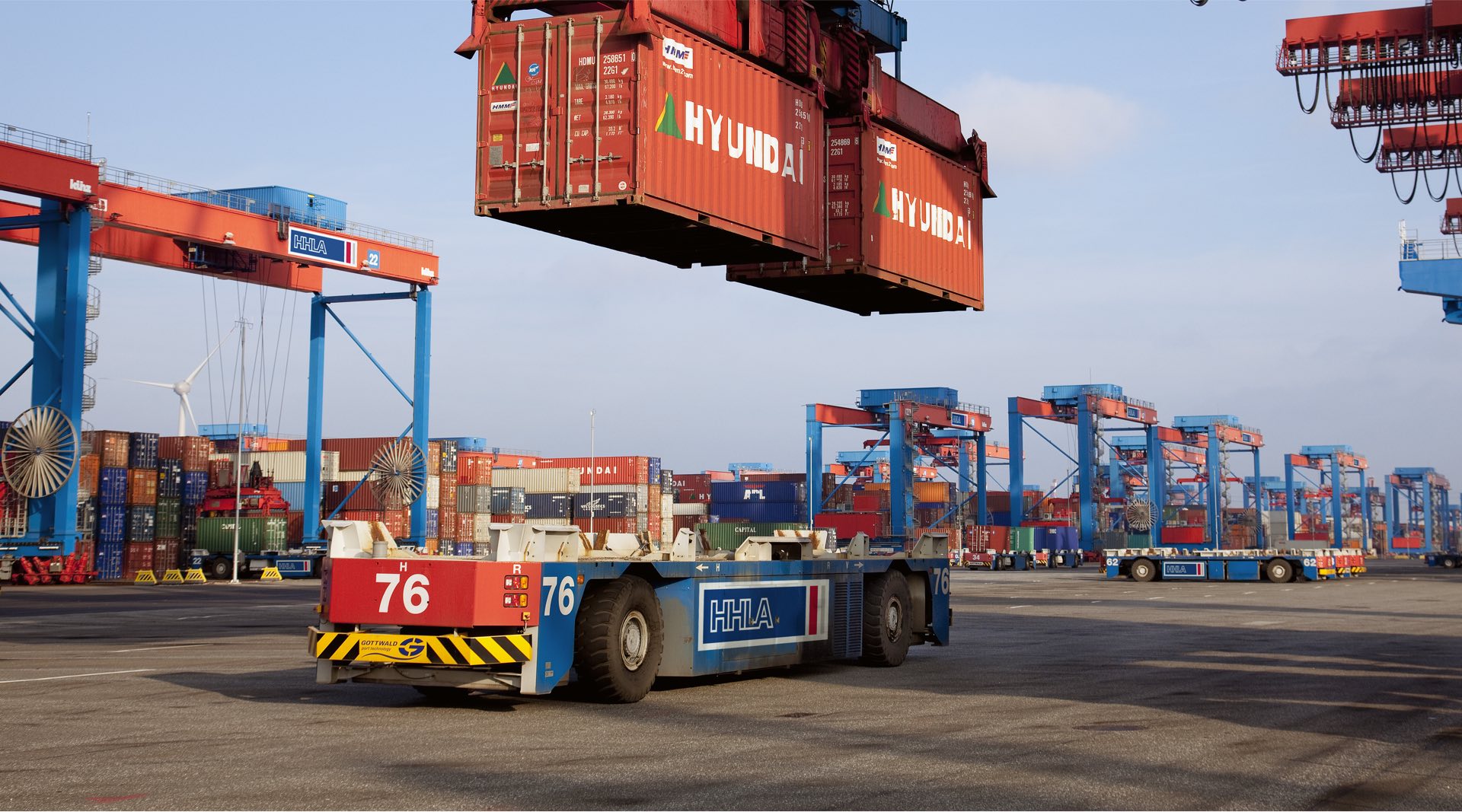 When the HHLA Container Terminal Altenwerder started operating in 2002, it was considered state of the art worldwide. The compact layout remains pioneering for container handling to this day. Cutting-edge technology and innovative IT systems ensure that large container ships in particular are loaded and discharged efficiently. The construction of a large container rail terminal with 700-metre-long platforms also proved to be an intelligent and important move. Together with the adjacent logistics centre, it forms a high-performance, compact container hub.
50 Years of Container Handling at HHLA
1968
The first fully containerised ship, the American Lancer, is handled at the Port of Hamburg. By autumn, four to five fully containerised ships are calling at Burchardkai each week. The Delphin container train becomes the first direct train to arrive at a container terminal.
1972
The first fully containerised ships operating a weekly service from and to Asia are handled at the Container Terminal Burchardkai (CTB). Six container gantry cranes at six berths are available for these vessels.
1975
The CLOU interactive dialogue system, which enables better management of containers, is introduced at CTB. Electronic data processing is gradually rolled out to control processes and is subsequently extended to large-scale equipment as well.
1984
Mobile data communication systems are established which help to perfect straddle carriers' positioning of containers.
1992
The first HHLA container train travels to Eastern Europe. The transport network between ports and the hinterland is expanded and HHLA invests in additional Intermodal companies.
1995
Burchardkai becomes the first container terminal in the world to use satellite data to pinpoint containers' precise location in the yard.
1996
HHLA acquires the Container Terminal Tollerort (CTT).
2002
Operations commence at the HHLA Container Terminal Altenwerder (CTA), which remains the most highly automated facility in the world to this day.
2004
HHLA decides to expand CTB's capacity to over 5 million TEU.
2006
The new rail terminal at CTB opens. It enables block trains up to 740 metres long to be handled.
2010
The new block storage system goes into operation at CTB, considerably increasing the terminal's capacity.
2012
HHLA and Deutsche Bahn restructure their Intermodal shareholdings. While Deutsche Bahn becomes the sole shareholder in Transfracht, HHLA acquires its stakes in the rail companies Metrans and Polzug Intermodal.
2013
Work begins to gradually expand CTB, enabling it to handle container ships with a carrying capacity of 20,000 standard containers (TEU) or more. Additional fully automated storage blocks become operational.
The HHLA subsidiary Metrans uses a fleet of 1,300 wagons in a proprietary design which were developed especially for transporting containers by rail.
2014
Metrans acquires its first twenty multi-system locomotives with the aim of considerably boosting its own traction fleet and value added.
2016
State-of-the-art tandem container gantry cranes are installed at CTB. These are capable of handling the latest generation of container mega-ships.
2017
The first 20,000 TEU container ship, the MOL Triumph, is handled at CTB.
The Future of HHLA
The age of the mega-ship began in early 2010. Shipping companies have been commissioning larger and larger vessels since then. They hope to generate greater economies of scale by means of increased capacities. This decision has far-reaching consequences for terminal operators as well.
HHLA has adopted a policy of demand-oriented expansion to ensure it will be able to handle the rising number of ships with over 20,000 TEU safely and reliably in the future too. These large ships are being built even though volumes still fall far short of their level prior to the 2008 financial crisis. HHLA has invested approximately € 400 million in its largest terminal, CTB, to date. One of the focuses of this capital expenditure is on modern mega-ship berths with tandem gantry cranes which can load or discharge four 20-foot containers or two 40-foot containers in a single movement. Capacity is also being increased using the same approach as at CTA and the conventional storage system is being replaced by automated block storage while regular operations continue. The first container mega-ship, the CMA CGM Marco Polo, called at CTB in 2012 during its maiden voyage. CTB subsequently handled its first container ship with a capacity of over 20,000 TEU, the MOL Triumph, in June 2017. HHLA is preparing for the future by investing in gantry cranes and storage technology and by expanding the container rail terminal at Burchardkai. Meanwhile, the company is also exploring the question of what to expect next alongside containers.